MB Software Solutions' experience will help your business to

succeed.

advance.

progress.
MB Software Solutions was founded in January 2003 and brings several decades of combined years of experience to the table to help your business. President/CEO Michael J. Babcock is a Microsoft Certified Professional (MCP) in multiple areas and holds the ITIL v3 globally recognized industry certification, and Jim Bova and his experts have decades of experience as well. We are experts at what we do and take great pride in helping your business.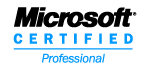 ---
FabNet/FabMate
How it all began and how to get started!
Started in 2003 and originally called "MBSS Estimate", this wonderfully flexible, easy-to-use estimating software was created with insights and suggestions from Bill Miller and Steve Minnich from Ebinger Iron Works in Schuylkill Haven, PA, along with Michael Babcock and MB Software Solution's knowledge of how to design solid database applications with easy to use user interfaces.
Ebingers had used a well known commercial product ("FabTrol"), but weren't happy with it. They then dropped it in favor of using Microsoft Office's Excel program, complete with some slick macros to create their bids. But as powerful and simple with manageable data as Excel was, it wasn't long before they realized they needed something else:
Something that was going to give them a consistency in estimating across their shop
Something that was going to handle very large jobs and remove the potential mistakes that come with Excel (missing formulas, inconsistent pricing, etc.)
Something that wasn't going to have the vendor charge them what seemed like a lot for such little changes
Something whereby they could get the changes they wanted without having to wait for 500 other users to want the same change
MB Software Solutions (MBSS) met with Ebingers in the summer of 2003, took a list of the things they liked about their past processes as well as a list of "gotchas" that bit them in the past and a list of much needed safeguards, and created FabMate.
Fast forward to 2014, and with the explosion of advancements in speed, security, networking, and the internet "cloud", MBSS redesigned FabMate to be accessible to all with a very robust, open source FREE, highly secure, multi-user database and adds a tremendous amount of unlimited flexibility in the way users can design their estimating framework. Limitations that existed in classic FabMate were removed so that the sky is the limit!
MBSS offers a completely risk free trial for 60 DAYS. After that, you can purchase the software and keep the trial data you've entered if you'd like to become one of our very satisfied customers.